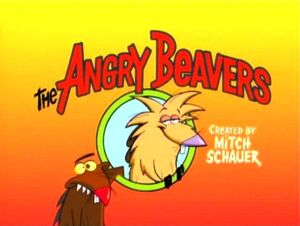 General Information
Title:

The Angry Beavers

Format:

Comedy
Slapstick

Creator(s):
Writer(s):

See: Writers

Director(s):

See: Directors

Number of episodes:

62

Original Network:
Nickelodeon
Start Date:
April 19, 1997
End Date:
June 11, 2001
Episode Length:
30 minutes
Description:
The series revolves around Daggett and Norbert Beaver, two young beaver brothers who have left their home to become bachelors in the forest near the fictional Wayouttatown, Oregon.[1]
Main Characters:
Availability:
DVD
iTunes
Content Information
Rating:
TV-G
TV-Y7 (some episodes)
Violence:
Language:
The word "spoot" is used to replace profanity in the series.[2]
Sexual Themes and Nudity:
Nudity (some episodes)
Drugs and Alcohol:
Crude Humor or Comic Mischief:
Mild
Background Information
Trivia
The ending theme, confirmed by Mitch Schuaer in 2017 during a podcast interview, is a sped-up version of the 1961 song "Baby Elephant Walk", which was written by Henry Mancini. [9]
Norb and Dag's younger sisters, Stacy and Chelsea, are named after and voiced by Mitch Schauer's daughters.[10]
This series was one of three shows Mitch Schauer helped pitched for Nickelodeon.[9]
Norb and Dag appeared in three video games: Nicktoons Racing (as playable characters), Nicktoons: Attack of the Toybots (as master models), and Nicktoons MLB (in the game's loading screens).
External links
References