The Angry Beavers: Season 3, Part Two is a two-disc set for the second part of season three, which was released August 14, 2012.
Publisher Description
The Twins Are Back!
Norbert Foster and Daggett Doofus continue their sidesplitting adventures in this uproariously funny 2-disc collection. When these two wild bachelors take the town, no one will ever be the same! Find out why as you laugh your way through the final 11 episodes of Angry Beavers' hilarious third season!
Includes favorite episodes "Kreature Komforts," "Das Spoot," "Practical Jerks," "Euro Beavers," "Finger Lickin' Goofs" and more!
Episodes
Disc 1
Disc 2
Languages
Audio
Subtitles
Main Menu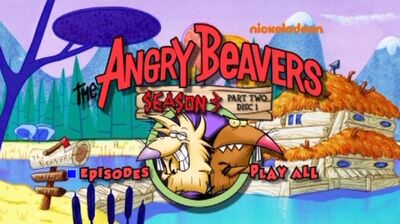 International Releases
External links
Ad blocker interference detected!
Wikia is a free-to-use site that makes money from advertising. We have a modified experience for viewers using ad blockers

Wikia is not accessible if you've made further modifications. Remove the custom ad blocker rule(s) and the page will load as expected.