Stump is an elm tree stump whom Norb met.
Biography
Norb introduced Stump to the other creatures of the forest in the episode, "Guess Who's Stumping to Dinner?". Stump often moves on his own while he is off-screen. In "Brothers... to the End?", he is seen drinking punch with the others, which was the first time he actually moved on screen. [3]
Background Information
He is able to write as he wrote a goodbye letter to Norb and Dag. [4]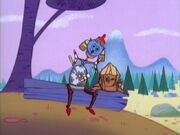 Gallery
The image gallery for Stump may be viewed here.
Appearances
Mentioned Only
References
Ad blocker interference detected!
Wikia is a free-to-use site that makes money from advertising. We have a modified experience for viewers using ad blockers

Wikia is not accessible if you've made further modifications. Remove the custom ad blocker rule(s) and the page will load as expected.