Goody Good Gal is a comic book super heroine whom Treeflower role-plays as.
Physical Appearance
Goody Good Gal is a Caucasian with shoulder length light brown hair. Her costume consists of a black and purple sleeveless leotard with a crimson "G", a lavender and black tiara, black boots, a black and purple necklace with a blue cord, and a light green and black cape.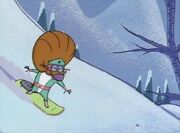 When Treeflower used the superhero name in "Muscular Beaver 3", she wore her snowboarding outfit, which is a mint green headband with a pink flower, a pair of pink and white framed snow goggles, a mint green and white snowsuit with pink cuffs, a magenta and pink belt with a pink flower, and pink boots.
In "Muscular Beaver 4", Treeflower's costume consisted of a blue tiara with a red and white flower, blue bangle bracelets, a strapless blue leotard with red and white flowers as well as a magenta and red "G", red boots, and a mint green cape, also with red and white flowers.
Utility items
Death Ray of Ouch My Face
Powerful Power Shield of Power
Gallery
The image gallery for Goody Good Gal may be viewed here.
Appearances
References
Ad blocker interference detected!
Wikia is a free-to-use site that makes money from advertising. We have a modified experience for viewers using ad blockers

Wikia is not accessible if you've made further modifications. Remove the custom ad blocker rule(s) and the page will load as expected.