Daggett becomes the foster parent for a baby mongoose which was found on his bed, and starts to become attached to the child.
Episode Summary
Background Information
When Norb is opening the medicine cabinet, a camera man is visible in the mirror.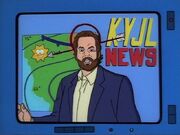 The weatherman on the TV is a caricature of Mitchell Schauer, the creator of the series.
Production Information
Continuity
Allusions
Rabbit Test, Junior - The idea of Daggett, a boy, having a baby is similar to the plot of the 1978 and 1994 (respectively) comedy films.
"Hello Muddah, Hello Fadduh" - The instrumental of the 1963 novelty song is briefly played while Dag was taking care of the baby mongoose.
"Daydream Believer" - The instrumental remixed version of the 1967 song by The Monkees is played when Norb is taking the baby mongoose to the highest mountain.
Gallery
The image gallery for Daggy Dearest may be viewed here.
Cast
References
Ad blocker interference detected!
Wikia is a free-to-use site that makes money from advertising. We have a modified experience for viewers using ad blockers

Wikia is not accessible if you've made further modifications. Remove the custom ad blocker rule(s) and the page will load as expected.