When Daggett wins a magic bowling ball through a stroke of luck, he discovers that he'll always hit a strike if he bowls with that bowling ball. In an attempt to gain maximum profits off of his new-found ability, he decides to enter a high stakes bowling tournament.
Episode Summary
Background Information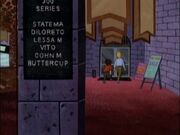 Production Information
Allusions
Gallery
The image gallery for Alley Oops may be viewed here.
Cast
Ad blocker interference detected!
Wikia is a free-to-use site that makes money from advertising. We have a modified experience for viewers using ad blockers

Wikia is not accessible if you've made further modifications. Remove the custom ad blocker rule(s) and the page will load as expected.